Sky Station International
1824 R Street, NW
Washington, DC 20009 USA
1.202.518.0900
fax 1.202.518.0802
www.skystation.com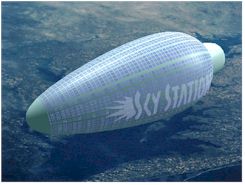 Sky Station's technology consists of an unmanned, lighter-than-air platform which can be maneuvered on a guided path or held geostationary in the stratosphere.

The platform is an innovative delivery vehicle suitable for a variety of purposes from telecommunications to earth sciences applications.

Designed for a lifespan of 5-10 years, the platform is equipped with sufficient solar and fuel cell capacity to carry a payload of up to 1000Kg.

Telecommunications
The ability of the Sky Station platform to stationkeep (remain in a geostationary position) enables it to act as the "highest cell tower in town" providing last mile connectivity to millions of users.

Earth Sciences Applications
Sky station platforms are the ideal vehicle for a variety of earth science applications. Equipped with sensors, the platform will provide high resolution, long duration, constant time data and imagery over the localized area. This high quality information will be utilized to monitor all types of atmospheric, land, and sea pollution, energy efficiency, radiation detection, traffic patterns, search & rescue to name a few. Lower cost, higher quality digital mapping will be utilized to improve urban planning and development, especially in densely populated zones.

Sky Station platforms represent the first permanent presence in the stratosphere. They are uniquely situated to provide in-situ measurement and monitoring of chemical composition and interaction of the stratosphere on a 24 hour, long duration basis. As this will be the first time the stratosphere will be monitored on a constant basis, Sky Station platforms will provide a new source of information which is expected to contribute greatly to our level of understanding of this unexplored zone. This will play a significant role in priority research in ozone monitoring and protection, climate change and weather patterns.
---
Home | Stratospheric Telecommunications Service
Frequently Asked Questions | News & Press Releases
The People Behind Sky Station | Conference Schedule
Career Opportunities | How to Contact Us
Sky Station™ is a proprietary mark of Sky Station International, Inc.